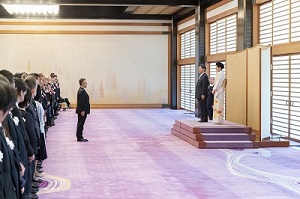 A Reception
(Shunju-no-Ma (Grand Hall), Imperial Palace)
(Photo: Imperial Household Agency)
A meeting with Their Majesties the Emperor and Empress is called an Audience. People invited to Audiences are mainly persons who have rendered distinguished service in fields such as social welfare, medicine, education, culture, science and industry.
Their Majesties invite leading Japanese and non-Japanese figures, including recipients of the Order of Cultural Merit, People of Cultural Merit, recipients of the Japan Academy Prize, recipients of the Japan Academy of Art Award, and the ambassadors of Japan prior to their overseas posting, to tea receptions, luncheons and other gatherings.
His Majesty the Emperor holds meetings with the Prime Minister and other Ministers of State, during which they explain issues in person under their jurisdiction. There are also meetings with experts offering lectures on their specialized subjects. Their Majesties greet people coming all over Japan to offer their services in sweeping Imperial House Gardens.
Their Imperial Highnesses the Crown Prince and Crown Princess and other Imperial Family members join Their Majesties the Emperor and Empress in some meetings, while meeting on their own with people from Japan and abroad.