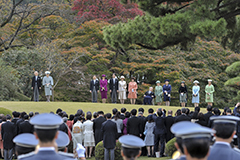 Their Majesties' Garden Parties
(Akasaka Imperial Gardens)
(Photo: Imperial Household Agency)
Each year garden parties are held at the Akasaka Imperial Gardens, once each in spring and autumn.
Their Majesties the Emperor and Empress invite about 2000 guests with whom they engage in friendly conversation, including the Speaker and Vice-Speaker of the House of Representatives and the President and Vice-President of the House of Councillors; Diet members; the Prime Minister; Ministers of State; the Chief Justice and Justices of the Supreme Court; other Ninshokan (government officials with Imperial attestation) and leading figures of legislative, executive and judicial organs; prefectural governors and chairpersons of prefectural assemblies; mayors of municipalities and chairpersons of municipal assemblies; and persons who have rendered distinguished service in various fields including, industry, culture, the arts and social activities, all of them with their spouses.
Their Imperial Highnesses the Crown Prince and Crown Princess and the rest of the Imperial Family attend garden parties. Also invited to the garden parties are the Heads of the Diplomatic missions in Japan and their spouses, and other Diplomats and Heads of consulates and their spouses.