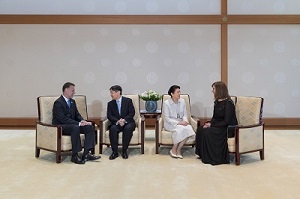 An Audience
(Imperial Palace)
(Photo: Imperial Household Agency)
An audience is a meeting of Their Majesties the Emperor and Empress with foreign Heads of State, Prime Ministers, Ambassadors and their spouses, and other distinguished guests. On such occasions Their Majesties have friendly conversations with these guests.
Their Imperial Highnesses the Crown Prince and Crown Princess and the rest of the Imperial Family also hold friendly meetings with foreign guests.