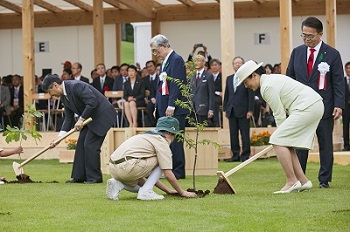 The National Tree Planting Festival
(Photo: Aichi Prefecture)
Their Majesties the Emperor and Empress make appearances at ceremonies in the Tokyo Metropolitan Area such as the Memorial to the Nation's War Dead, the Japan Academy Prize Ceremony, Japan Art Academy Prize Ceremony and The Japan Prize Presentation Ceremony, In addition, Their Majesties the Emperor and Empress also visit regional areas in Japan to attend National Tree Planting Festival, the National Sports Festival, The Festival of Celebration for Maritime Resources, and the National Cultural Festival, National Arts and Culture Festival for Persons with Disabilities. Their Majesties also visit local welfare, cultural, industrial and other facilities where they offer encouragement to those engaging in such work.
In the event of a major natural disaster, Their Majesties visit the site affected and mourn the victims, console the survivors and encourage those participating in relief operations.
Other members of the Imperial Family also make appearances in and outside Tokyo at national-level conventions and those events that are held by the organizations of which they assumed presidents or honorary presidents.
Their appearances also involve observing local circumstances as well as, welfare and cultural facilities and encouraging the parties concerned in these facilities.
In the event of a natural disaster, they also pay sympathy visits.