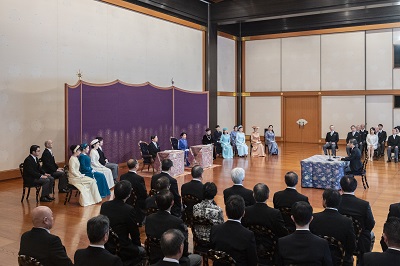 (Photo : Imperial Household Agency)
The Ceremony of the Kousho Hajime (Imperial New Year's Lectures) takes place every January at the Imperial Palace in the presence of Their Majesties the Emperor and Empress. This is a ceremony in which Their Majesties listen to experts' explanations in the fields of human, social and natural sciences in their respective field. Other members of the Imperial Family, including His Imperial Highness the Crown Prince are also present and the Minister of Education, Culture, Sports, Science and Technology, and members of the Japan Academy and the Japan Art Academy are also in attendance.
The Ceremony of the Kousho Hajime was instituted in 1869 with a "lecture for the New Year" designed for the enlightenment of studies by Emperor Meiji. In those early days, lectures concentrated on Japanese and Chinese texts, and subsequently came to include western texts. From 1953 the explanations in the above-mentioned three fields came to be instituted.