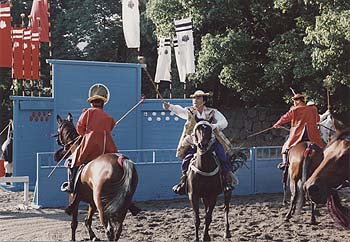 (Photo: Imperial Household Agency)
Dakyu is said to have begun in Central Asia, and travelled west to Europe to become the modern day game of polo. The same ancient game however is said to have also travelled east to China where it became Dakyu, and finally reached Japan via the Korean Peninsula during the 8th or 9th centuries.
Subsequently, in the Nara and Heian periods, Dakyu came to be played at the Imperial Palace around the time of the Tango Boy's Festival (May 5). During the Kamakura period the game declined, but by the time of the Edo period, Tokugawa Yoshimune, the eighth Shogun of Tokugawa government, promoted the game as a form of exercise for warfare on horseback and new methods of competition were devised, leading to its resurgence.
From the Meiji period, ancient traditional forms of equestrianism were increasingly challenged by more practical European forms, and Dakyu once again underwent a transformation and was modernized somewhat, but in the stables of the Imperial Household Agency, Dakyu is still practiced and preserved in the former popular mid-Edo period style.
Dakyu is played on a field 20m by 50m, on which five riders on each team attempt to score "goals" against each other. There is only one goal post, on which banners (red and white) are raised when a team scores a goal. The game is concluded when 12 balls (11 balls and one final goal) have been played.