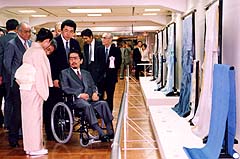 As President of Nihon Kogeikai, His Imperial Highness Prince Katsura attends an award ceremony for the Exhibition of Japanese Traditional Art Crafts and views craft works.
(Photo: Imperial Household Agency)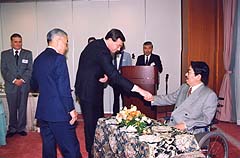 His Imperial Highness Prince Katsura greets the Australian Ambassador to Japan, as well as other participants, at a New Year's meeting for the Japan Australia New Zealand Society.
(Photo: Imperial Household Agency)
When His Imperial Highness Prince Katsura began his independent life on 1 January 1988, and was granted the name Prince Katsura. His Imperial Highness is currently serving as the President of the Japan-Australia-New Zealand Society, the Agricultural Society of Japan, the Japan Forestry Association, and the Japan Art Crafts Association.
In October 1982 His Imperial Highness visited Australia to attend the 10th anniversary ceremony of the establishment of the Canberra Australia-Japan Society. His Imperial Highness then visited New Zealand and made great efforts to further international friendly relations in both countries.
In May 1988 His Imperial Highness was struck with illness, but to the present His Imperial Highness has continued to make great efforts in his rehabilitation and appears regularly in his capacity as President at group awards ceremonies, etc.
In June 1997 His Imperial Highness again visited Australia, this time in a capacity as Honorary President of the "Grand Sumo Australia Festival (Melbourne and Sydney tournaments)".
Go to the Personal History of His Imperial Highness Prince Katsura